Introduction:
As the vacation rental industry continues to flourish, property managers and hosts face a myriad of challenges that can impact the guest experience. One notable obstacle is the issue of resolving problems promptly and efficiently. At STR Accommodations, we've recognized the significance of this aspect and have developed strategies to ensure guest satisfaction remains at the forefront of our services.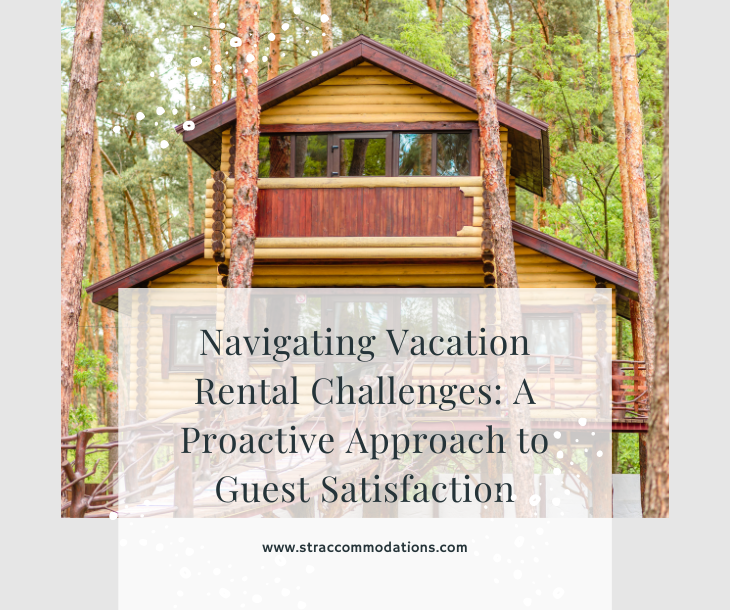 Navigating Vacation Rental Challenges: A Proactive Approach to Guest Satisfaction
1. Repeatable Systems for Success
One common pitfall in the vacation rental industry is the lack of established systems to address recurring issues. Even if a problem has been resolved in the past, many properties treat each occurrence as a unique challenge. This can lead to delays in resolution and dissatisfaction among guests. Our approach at STR Accommodations involves setting up repeatable systems for problem-solving. By documenting solutions and maintaining a knowledge base, our team can swiftly tackle issues that arise, ensuring consistent and satisfactory outcomes.
2. The Need for Speed
Timely issue resolution is paramount in the vacation rental landscape. Whether it's maintenance-related problems or supply shortages, guests expect prompt solutions. To address this, we have implemented a quarterly maintenance schedule supplemented by a 24/7 emergency call line. This approach guarantees that properties under our management receive the necessary attention swiftly, minimizing inconvenience for guests and maintaining the property's appeal.
3. Tailoring Experiences with Thoughtful Design
Differentiating vacation rental properties from the competition requires more than just a physical space. At STR Accommodations, we understand the importance of creating a unique experience for guests. We work with property owners to identify a target audience and curate an environment that caters to their preferences. Whether it's enhancing amenities or incorporating a distinct theme, this approach allows us to attract the right guests and create memorable stays.
4. Building Redundancies for Seamless Stays
Unforeseen situations can arise during a guest's stay, ranging from a malfunctioning smart lock to depleted supplies. To mitigate these inconveniences, we've developed practical solutions that ensure smooth stays. For instance, we advise property owners to maintain backup lock boxes with physical keys as a failsafe in case of smart lock issues. Additionally, we encourage hosts to keep a concealed stash of essentials, such as toilet paper and trash bags, ensuring guests have easy access to these items without disruption.
In conclusion, the vacation rental industry is evolving rapidly, and addressing challenges effectively is key to providing exceptional guest experiences. At STR Accommodations, our proactive approach to problem-solving, emphasis on timely resolutions, focus on tailored experiences, and implementation of redundancies sets us apart. By continuously refining our strategies, we remain dedicated to offering guests curated spaces that captivate their attention and create once-in-a-lifetime memories.
Remember, guest satisfaction goes beyond the physical space; it encompasses the entire experience. By addressing issues promptly and enhancing the guest journey, STR Accommodations leads the way in providing exceptional vacation rental services.
Collaborative Insights from Redfin's Article and STR Insiders Podcast
Our commitment to enhancing the vacation rental experience was further reinforced through our collaboration on an insightful article published by Redfin. Titled "Steer Clear of These 21 Vacation Rental Problems Beginning Rental Managers Make," this article offered valuable insights into common pitfalls that new rental managers encounter. In particular, our contribution centered around the critical importance of learning and resolving problems quickly. Drawing from our extensive expertise, we highlighted how a proactive and systematic approach can lead to better guest satisfaction and operational efficiency.
Also in our participation in the podcast episode titled "Ep.14 Systems to Maximize Your STR Potential: Expert Tips from Cody Wood," hosted by STR Insiders. This podcast episode provided a platform for industry experts to share valuable insights into maximizing the potential of short-term rentals. During our conversation, we delved into the crucial topic of learning and resolving problems quickly. Drawing from our extensive expertise, we discussed the importance of integrating suitable systems and procedures in the realm of short-term rental administration, the art of maximizing property income by employing the 80/20 rule, the essentials of standard operating procedures and their impact on refining the guest adventure, the value of maintaining vigilance in tracking metrics and performing upkeep for thriving short-term rental enterprises, and the benefits of automation in the hiring of virtual assistants and the effective coordination of your technology arsenal.